The 2A must be the first choice for the retained firefighter. See for yourself. We guarantee you'll be impressed.
The 2A firefighter's alerter is specially designed and manufactured by us for the fire service. Made to be solid, robust and dedicated to the receipt of fire, test and any additional call types such as co-responder or admin calls.
See our news page for a feature on the 2A.
2A-SR - Station actuator (wide area) paging receiver

Brochures and technical information.
Key Benefits
MG4 compliant

'Plug & play', insert battery and use

Rugged construction, polycarbonate case

Simple one button operation

Instant call type recognition

No unnecessary or complicated modes of operation

Very loud

Strong lanyard attachment hook

Strong belt clip

Vibration alert, activates together with beep

Distinctive alerts for fire, test, co-responder etc

Alert tone patterns are not adjustable by the user

Ultra bright status and call LED's (3 x red, 1 x green)

Duplicate call comparator, stops repeating calls

Totally compatible with all fire brigade mobilising systems
Comprehensive Windows programming tool supports a host of features...
The following is only programmable by communications departments (system programmers) and cannot be configured by the user.
Windows programming software toolkit (request an evaluation copy)

7 ID codes with 4 sub-addresses per ID code

32 programmable alert tone patterns

Programmable 4 way call type selector

Display configuration, (LED pattern)

Vibration with tone alert enable

Programmable escalating alerts

Alert tone bleeping period, 2 to 240 seconds

Unread message prompt blip

Disable off mode

Disable mute mode

Mute override feature to bypass user mute settings for urgent calls

Call comparator to suppress multiple alerts, associated with other models
We totally support the 2A alerter with on-going maintenance, both electrical and cosmetic.
Front and perspective view...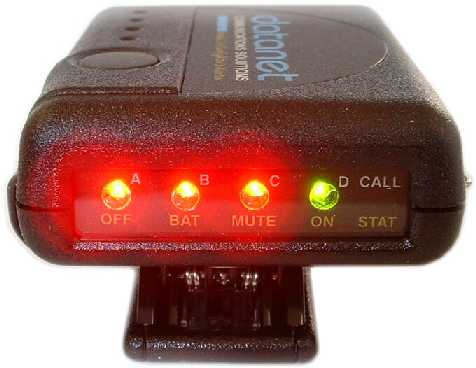 2A's Super Bright LED Array
---
Documentation

Glossy Brochure

Datasheet - Technical specifications

Training Guide - General guide

Simple example user guide card - This card should be customised as required.

User controllable ID code switching - specification

ID code switching user guide card - This card should be customised as required.