For fire and emergency services we offer...
Priority fire alerter service to speed maintenance to a level that you may well have thought was impractical to achieve.
View a pictorial flow of the service run in pdf here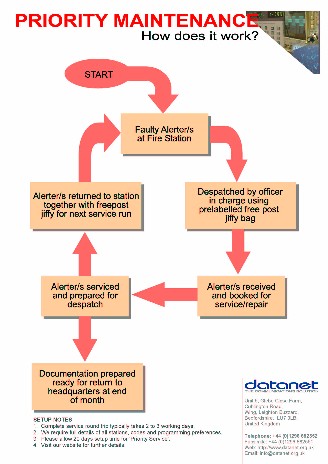 By using pre-labelled freepost jiffy bags, individual fire stations may return alerter items for service directly to us, thus avoiding inconvenient delays.

After servicing, the alerters are quickly returned to the original fire station for immediate use.

This process is guaranteed to be completed within 5 working days from receipt of goods (not including Saturdays and Sundays)

However, alerters are usually processed and despatched on the same day that they are received.

The process is strictly controlled using dedicated fully traceable paperwork for each transaction by all parties.

We supply our own printed self addressed labels to each fire station

The officer in charge places goods to be serviced in jiffy bag and deposits at nearest post office or letter box. No postage needed.
This service has been in operation since January 2001 and has proved very efficient and popular.
As you may appreciate, this service requires an element of setup time. We normally advise a period of 2 weeks to enable us to collect information about all your stations, their addresses, ID codes, programming plans etc. Then a further 2 weeks to pass information, free postage bags and labels to your fire stations.
To request this service you must enter your full details on the information request form below.
---